TOWARDS A BETTER STATISTICAL UNDERSTANDING OF THE CREATIVE ECONOMY
KEY RECOMMENDATIONS & SCENARIOS FOR THE EU
Cultural and Creative Sectors (CCS) are increasingly recognised as one of the most dynamic and innovative sectors in Europe, contributing to Europeans' quality of life, attractiveness and economic growth. Yet, measuring the value and impacts of CCS remains extremely challenging:
• creativity and culture are often embedded in products and services (e.g. design) or ICT platforms (e.g. music, films);
• CCS are populated by vibrant but often under-represented freelancers and small companies;
• emerging activities such as online music services or video games, but also more 'traditional' creative sectors such as arts crafts are not accurately identified by official statistical classification systems.
In a feasibility study carried out for the European Commission, KEA reviews traditional data collection tools and statistics from Eurostat and proposes amendments with a view to better grasp CCS' economic and social value.
The research first identifies and explains main gaps in Eurostat's data on CCS, with focus on the sector's economic dimension and cultural participation. It then provides a mapping of alternative sources (e.g. professional associations, Cultural Observatories and online 'big data') to better apprehend and understand the creative economy, including inspirational case studies on how to use non-official statistics. It proposes recommendations and scenarios for action to mobilise alternative data providers, and collect more comprehensive and in-depth data on CCS.
KEA will be presenting the findings of the study at the European Parliament's Committee on Culture and Education on 15 March 2016 (9.00 to 12.30).
Key recommendations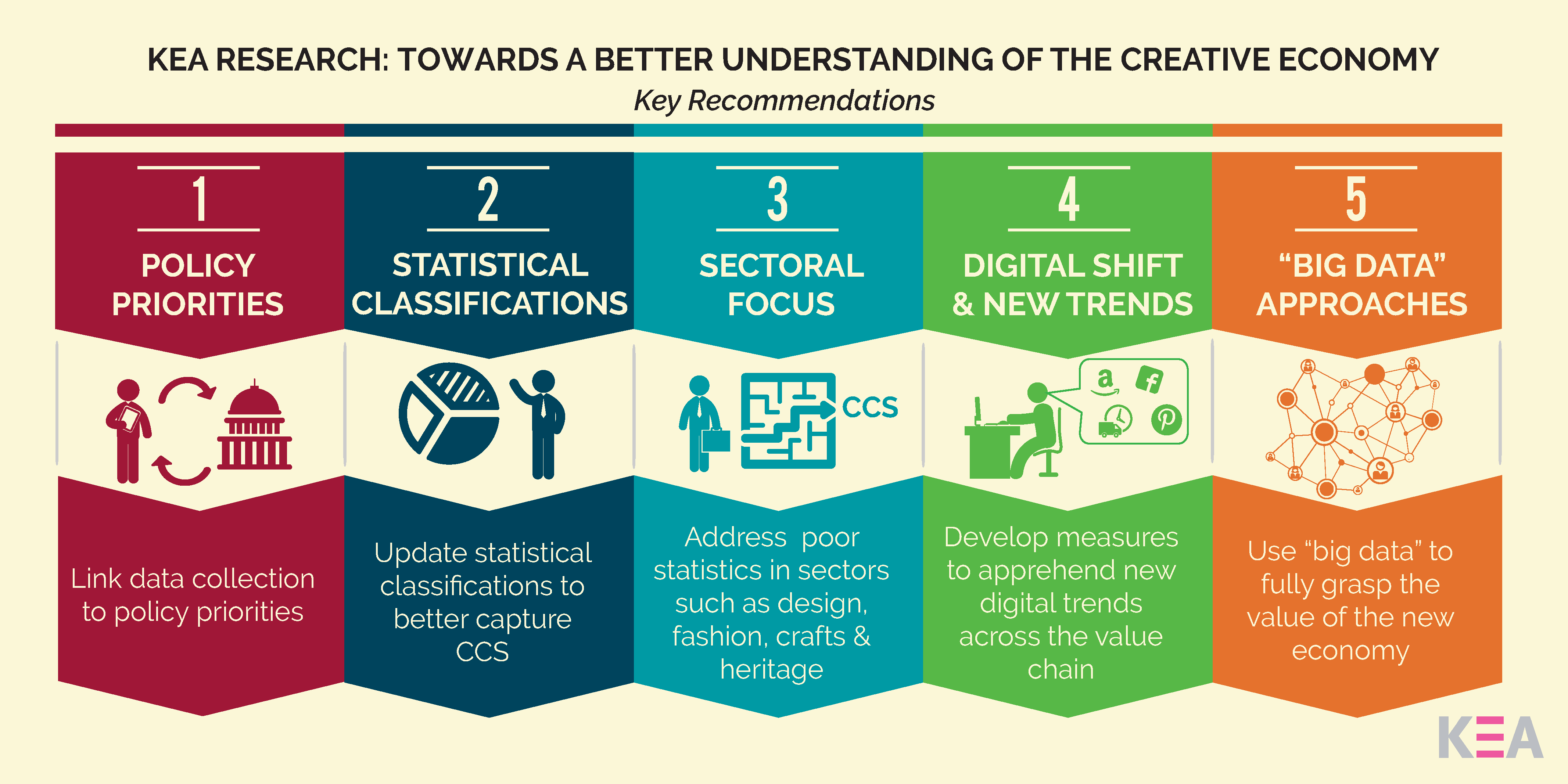 1. Link data collection to policy priorities
As the deployment of financial and human resources is rather challenging (i.e. CCS is not generally considered as a priority area of activities by statistical bodies), the identification of priority policy fields would be a convenient way to limit resources invested in data collection.
At EU level policy priorities for data collection could be cultural participation and cultural diversity.
2. Update statistical classifications to better capture the CCS
International classification codes developed since the 1950s (NACE, ISCO) are not adapted to fully identify cultural and creative activities. For instance, no appropriate codes exist to precisely measure art crafts. Statistical classifications are also not adapted to reflect sectors undergoing rapid changes due to the digital shift (e.g. Spotify currently escapes from CCS statistics).
European statistical bodies should take a leading role vis-à-vis the relevant international bodies (notably the UN) to amend classification codes particularly in relation to art crafts, music and video games.
3. Sectoral focus: develop ad hoc methods to measure domains poorly covered by official statistics, notably design, fashion, art crafts, festivals and heritage
Various CCS sub-sectors are poorly grasped by official statistics. The importance of fashion, for instance, is difficult to assess as it cuts across both creative and manufacturing activities. Festivals are hard to measure because of their "cross-sectoral" nature (i.e. should an art festival be classified under visual art or performing art?). Measuring the value of heritage sites, museums, art crafts or libraries is also challenging.
The development of ad hoc data collection methodologies for such sectors, in cooperation with relevant public and private organisations, should be a priority in order to do justice to their important contribution to the European economy and society.
4. Develop new measures to apprehend digital shifts and new trends across the value chains
Technological changes and market developments have led to the emergence of new actors in the digital fields.
European official statistics measure digital services in terms of generated turnover. However, it is not possible to isolate figures linked to, for instance, rights licensing activities, online advertising, downloads, or cross-border circulation of 'intangible' cultural goods, notably e-books.
European institutions should engage regularly with relevant bodies (trade associations, rights management bodies or Cultural Observatories) to improve measurement. Social media platforms are also a useful source of information that remains untapped.
5. Design 'big data' approaches to better grasp the value of the new economy
New mapping methodologies are using online big data to help track the emergence of industrial sectors. This is all important in sectors like the CCS, which have disproportionately high numbers of self-employed, freelancers and micro-companies.
European institutions should entrust a specialised body the development of 'big data approaches'.
The proposed recommendations are articulated around three scenarios to improve data collection:
– Scenario 1 proposes continuing the work that Eurostat is currently carrying out on CCS to ensure that a minimum number of high quality statistics on these sectors are regularly produced;
– Scenario 2 suggests setting up a capacity building scheme to collect more and better quality data from alternative data providers on the basis of identified policy priorities. This scenario foresees also the creation of a Creative Leadership Board acting as an incentive for industry representatives to engage in data collection;
– Scenario 3 recommends establishing a CCS Observatory with the mission of improving the collection and comparability of alternative data as well as developing new 'big data' methodologies.
Download the full study here.